In an era in which Regional Sets were plentiful, perhaps none was as popular among Braves collectors nor as interesting as the 1955 Braves Spic and Span die-cut set. The Milwaukee-based dry cleaning company had also issued photo card sets for the Braves in 1953 and '54, and continued to do so until 1957. After a two-year hiatus, the company would return with one final issue in 1960. According to Bob Lemke, the featured players each received $100 and free dry cleaning.
Size: approximately 7.5" x 7"
Number of Cards: 18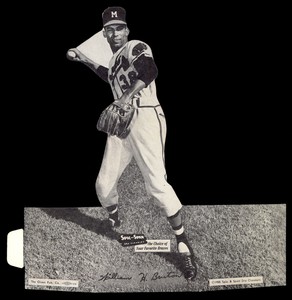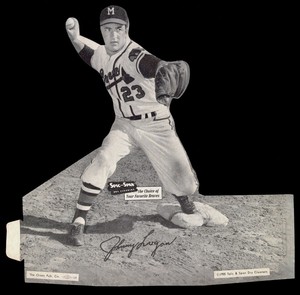 Players:
Hank Aaron, Joe Adcock, Bill Bruton, Bob Buhl, Lew Burdette, Gene Conley, Del Crandall, Jack Dittmer, Ernie Johnson, Dave Jolly, John Logan, Ed Mathews, Chet Nichols, Dan O'Connell, Andy Pafko, Warren Spahn, Bob Thompson, Jim Wilson.
While I have been aware of the Spic and Span die-cuts for a number of years, I was not familiar with the dry-cleaning cover, which is much more difficult to find than the cards. According to the Huggins & Scott Auctions website, from where I found the photo of the cover, these beauties measure 30" x 12" x 12" and feature the eighteen die-cut subjects.