I awoke this morning to snow on the ground and in the air. Everywhere. The temperatures have plummeted; winter is near. White. Everywhere I look, all I see is white. Peaceful, but cold. Lyrics from a song by The Cult are going through my head, "White. Shining, shining brightly. Pure crystal snow..." I begin playing the song on my laptop as I look outside, knowing that it will remain- at least for a few days...
As those lyrics ('white') continued to go through my head, I decided to make a list of former Braves with that last name who might have appeared on cardboard. I couldn't think of any off hand. So I took a trip over to the team's website and looked under their All-Time roster, which gave me a list of eight men who have played for the franchise.
Charlie White (1954-1955)
Acquired in February of 1954 from Baltimore for pitcher Vern Bickford, catcher Charlie White spent two seasons with Milwaukee- playing sparingly while backing up All-Star Del Crandall. During that time, he appeared in 62 games, going 29-123 with 1 HR and 5 RBI.
1955 Topps #103 Charlie White

1955 Johnston Cookies #24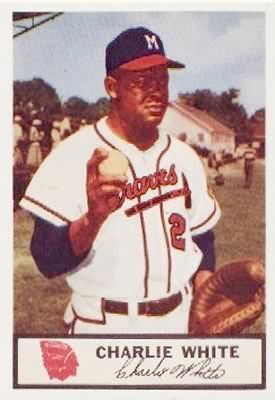 1954 Johnstone Cookies #24
Ernie White (1946-1948)
I can't find any record of him on cardboard- but I did find a cool link to an auction back in 2008 which featured a special satin uniform worn by Ernie during special night contests at Braves Field.
White was a left-handed relief pitcher for the Braves, who compiled an 0-3 record during his three years in Boston, but only pitched a total of 50.2 innings (28 games) in that time period. Control wasn't his friend: 30 walks compared to only 17 strikeouts.
Sammy White (1961)
Sammy White spent nine years in Boston as a catcher for the Red Sox before being traded to Cleveland in March of 1960. White failed to report to his new team, effectually voiding the trade. Sammy ended up sitting out the '60 season to focus on a business he had started (a bowling alley called Sammy White's Brighton Bowl) and was then acquired by Milwaukee in June of 1961 after an injury to Del Crandall. Even though he was acquired for a reported $35,000 (which, for a partial season, was pretty darn good money), White spent the 1961 season as a back-up for a rookie backstop name Joe Torre. During his lone season as a Brave, Sammy appeared in 21 games- hitting .222/.242/.286 and 1 home run in 63 at-bats.
While he was no slouch at the plate (.262/.305/.377 career line, with 66 homers), Sammy's value was behind the plate- where he was known as one of the best 'framers' in the game. His reputation for calling a game is also noteworthy- pitcher Mel Parnell once said that White had "the best feel for the game that I ever saw."
White never appeared on cardboard during his brief time with the Braves. Herb Crehan wrote an
extensive biographical look
at Sammy for the SABR website.
Deacon White (1873-1875, 1877)
Odds are that, until this summer, you never heard of Deacon White- unless you're a baseball historian. I had never heard of the man prior to his induction into the Baseball Hall of Fame this past summer. Here's a man who collected the first hit in professional baseball and received the first MVP award. He's also credited as being the first pitcher to use a wind-up in his delivery, as well as with helping popularize the catcher's mask.
Deacon's great-grandson, James B. Jackson, wrote a great tribute to his great-grandfather prior to this summer's Hall of Fame induction. It's a great read of an interesting fellow- and can be found on
Slate's website.
Jack White (1904)
No, not the musician. This Jack White played only one season (well, actually 1 game!) in the majors, and collected only 5 at-bats (going hitless, but scoring a run) in his lone game. Jack did have a pretty successful career in the minors, where he amassed over 2,000 hits.
Mr. White did get some cardboard love, on the T-206's while a member of the Buffalo Bisons.

Kirby White (1909-1910)
The Doves (one of the names of the Braves franchise, named after owner George Dovey) had claimed Kirby White off waivers, after the Cubs tried to sneak him through in order to sell him to the Columbus Foxes, a class-C minor league team. During his two seasons in Boston, Kirby White pitched very well at times, but was often the victim of poor defense and inconsistency with his location- resulting in 167 walks in just over 327 innings.
Sam White (1919)
Like the Sammy White mentioned above, this Sam White was also a catcher. This Sam White also had something in common with Jack White: he played in only one major league game- collecting one at-bat, in which he made an out. Can't find anything on him, other than he was born in England and died at the young age of 36.
Steve White (1912)
Our final White is Steve, who pitched one season in the majors, appearing in one game for the Washington Senators before moving on to Boston, for whom he pitched in three games. In six innings for the Braves, Steve allowed nine hits, five runs (4 earned) and five walks. This White was another one that was difficult to find information on. One thing I discovered through a 1913 newspaper article: he was a collegiate star while at Princeton.