Did the player's strike of 1994 cost Fred McGriff an induction into the Hall of Fame? It's a fair question that CBS Sports writer Matt Snyder asked in a
recent article
. Snyder points to the magical numbers that are often viewed as automatic tickets to the Hall- unless, of course, the player is linked to PED's. In McGriff's case, would 500 homers punch the ticket? The Crime Dog finished his career with 493 home runs, but missed around 70 games due to the strike. At the time the season ended prematurely, the Braves first baseman had been on fire, hitting seven home runs in ten games; the odds of him getting another seven in the remaining 48 games were pretty good- and that's not including the games lost on the 1995 season.
As for this disc, the color scheme makes it look like the love child of 1975 Topps and one of those ubiquitous MSA discs from the 70s and 80s.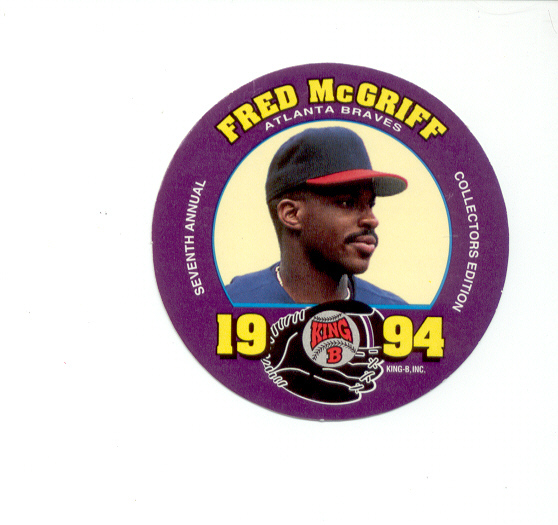 KING
In 1994, McGriff led National League first basemen in putouts (1,004/ also tops in the league) and in Total Zone Runs with 6.
After winning the 1992 N.L. Home Run title, McGriff became the first player since the dead-ball era to lead both leagues in home runs.
As Matt Snyder pointed out in the aforementioned article, at the time of the strike, Fred McGriff was in his sixth full major league season. During those first seven seasons, (which includes the partial season of his call-up) no one had more home runs than McGriff's 242. Bonds was second, with 218 bombs.