I just don't know what's going on with my team. They sign a 31 year-old who needs a neck fusion to a four-year deal, they offered a pitcher coming off of his second Tommy John surgery a 1-year deal worth a reported 5 Million dollars, and then yesterday they traded away a pretty damn good reliever to Boston for a mid-level prospect who may (or may not) be his equivalent. All this after trading the most popular player since Chipper Jones. Aaaaand...they are seeing a shrinking market for either Justin Upton or Evan Gattis- their two best commodities for rebuilding. They say we're not rebuilding, but we sure as hell don't look like we're going to compete. Simply put: management has confused the fan base- leaving us feeling like we're being conned.
I often feel the same way about card manufacturers.
Cards featuring all the colors of the rainbow, chrome versions, minis, serial numbered parallels, and photo variations- all part of a big con, making us think we really need theses things; that our player collections wouldn't be complete without them. Like Leland Gaunt (the devil in human form in Stephen King's Needful Things), Topps offers us some useless objects that we purchase by selling our souls. Confusing the collector base and conning us while they're at it. Gee, #ThanksTopps.
This confusing the collector isn't anything entirely new, though.

Consider 2001 Topps Fusion.
Released in 2001, Fusion was, in a single word, a flustercuck. I'll quote baseballcardpedia.com in their description of the set (which is much nicer than what I called it): "The product attempted to fuse five of Topps' brand names (Bowman's Best, Finest, Gold Label, Stadium Club and Gallery) all into one product."
The site continues, "Card numbers ending in a 1 or 6 are done in the style of Bowman's Best (refractive chromium stock); 2 and 7 Finest (etched chromium stock); 3 and 8 Topps Gallery (canvas); 4 and 9 Gold Label (thick plastic stock with holographic foil); and 5 and 0 Stadium Club (high-glossy and full bleed)."
Like I said, a flustercuck.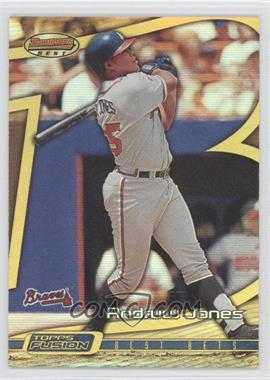 2001 Topps Fusion #11 - Andruw Jones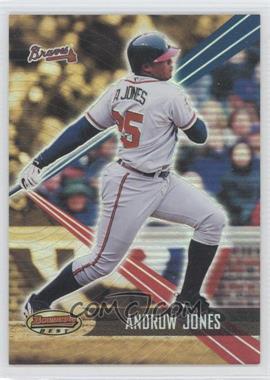 2001 Bowman's Best #33 - Andruw Jones
Do the sets look anything alike? No, not really.
The problem is that trying to catalog them can be quite confusing. Especially for someone like me who was pretty much out of the hobby in '01, only to return to this confusion. Take this Chipper Jones card, for instance:
2001 Topps Fusion #30 Chipper Jones
Quite a few months ago I decided to try to get my house in order, so to speak. I began the arduous task of cataloging my collection (still haven't gotten too far, BTW) and soon came across this card. So I pulled out my Standard Catalog to find out more about this 2001 Stadium Club insert set.
Huh? Wha? Nowhere to be found.
Perhaps it's a 2002 TSC. Yes, that must be it. After all, this one is obviously the 2001 Stadium Club Chipper...
2001 Stadium Club #2 Chipper Jones
The card number matches up with what Standard says. So I thumb through to 2002 but the card numbers for the previous card doesn't jive.
It took awhile, but I finally figured it out: it's an entirely different set.
At that moment, I just wished that things were like they were back in 1977, when the only "I'm so confused!" you'd hear coming out of my mouth was me mimicking Vinnie Barbarino.